Music PR: Let the World know you exist!
European Quality Winner: 97%
Price/Performance Test: 1.0 (A)
Global Music Puplic Relations (PR)!
All artists want the world to know that they exist. However, how do you become famous? Good compositions, great musicians, radio-ready songs or exceptional voices? No. These are the basic preconditions! We give you access to one of the most important services in the music business that most artists are not even aware of: And this is why almost no one knows them! We give you access to Music PR!
The Fairy Tale of the hardworking Bee:
"I am almost as good as this popular artist. Why am I not as famous as he is?" Such questions keep a lot of talented artists busy for decades. They think playing a lot of gigs, writing great songs, presenting one's songs well, and not to give up are the keys to success! They even send out demos: But nothing ever happens. They believe that someone will discover them one day. Then they will sign a contract with a major label and become famous. No. It does not work like this anymore.
Access Denied: The Music Business has changed!
Major labels are run by banks that don't care about you. No one listens to demos and artists are not discovered in bars anymore. Nowadays, music is a product. Popular acts are designed on a drawing board and forced into the market by PR campaigns. Most media companies will forever ignore your material because they only use material that comes from the industry. Major labels have spent decades to build up strong networks. And you are not a part of it. What to do?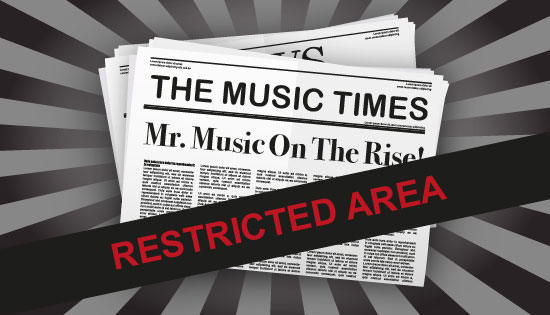 Access Granted: We are the Solution!
The key to success is the ACCESS to media (print, TV, radio, etc.) and the CONTROL over the published content. We have access and we have the control. We do not passively wait for media to discover you! Instead, we actively craft content about you and try to place it! First, we create your PR strategy and then we design gloryfying press releases that are disseminated to music editors in the region of your choice! We actively direct the attention of the mass media to you and to your message. And this is how to become famous.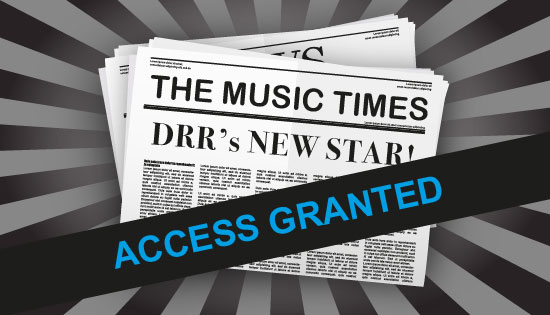 How much is Music PR?
Mass media are multipliers: If one single article or one time airplay confronts one million people with your music and just 1% of the audience is interested then this equals 10.000 new fans! We are PR pros that will design a professional PR campaign for you. The price is determined by the amount of distinct press releases, the amount of states, the amount of languages (inclusive translation). National campaigns start from US$ 1200, global campaigns can be more than US$ 12.000.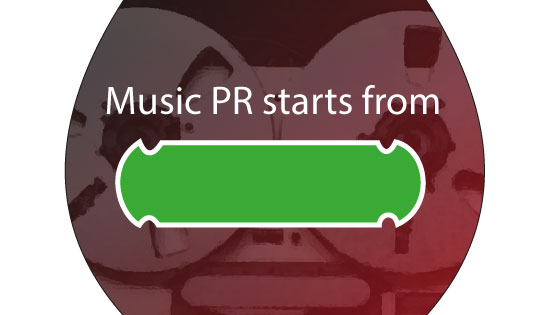 US$ 1200
Are you ready for MUSIC PR?
Music PR is not the first step on the way to success. Do you have well-produced songs, a homepage, a well thought out band image, professional pictures, and good video footage (or even music clips)? If you need any help regarding these steps: Don't hesitate to contact us! We are your one-stop solution! Simply check out our "Music Services" on top of the page. Hire us for the things you need - skip what you don't need.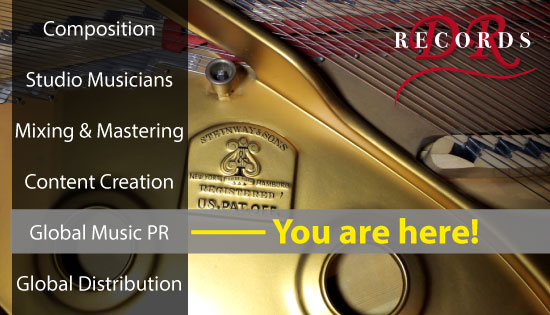 Pick the States for your Music PR Campaign
Dependent on your goals, we can craft press releases for single states or for the whole world. If you choose to spread your info to foreign states: We will take care of the proper translation of your texts or adjust the content to make it suit other cultural backgrounds. We can disseminate your info to up to 15.000 music editors that work with magazines, newspapers, radio or TV stations, etc.! We can incorporate links to your music, pictures or even videos!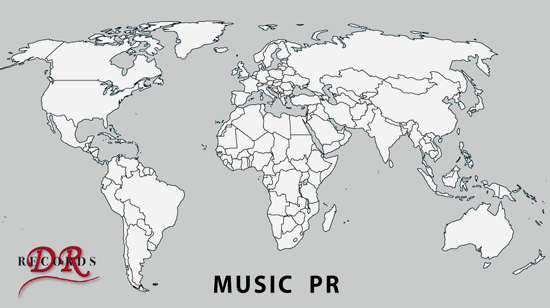 SPECIAL: GERMAN-SPEAKING STATES
Next to the dissemination of press releases in German-speaking states, we offer the great opportunity to directly introduce your music to about 2000 German-speaking music editors of whom many work with magazines, radio and TV stations. These editors can directly make use of your music in their programmes. Moreover, we will ensure that your music is stored in the archives of the public German stations: A precondition for airplay or the usage in German productions.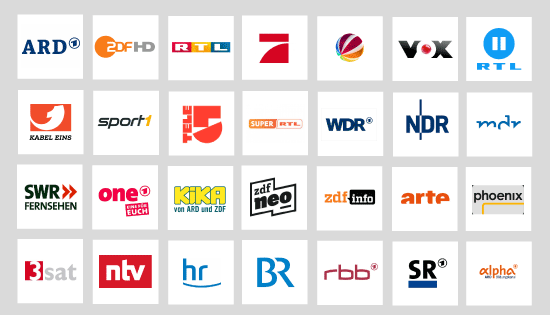 Before you ask for a quote, check this list:
Are your compositions good? Are performance, recording, mixing and mastering fine?
Have you already thought about your midterm and longterm goals in the music business?
Can you emotionally handle sudden attention - whether it is good or bad?
Do you know in which regions and states you want to become more popular and why?
Optional: Do you have professional pictures that can be incorporated into press releases?
Optional: Do you have high-quality video footage that can be linked (interviews, music videos)?
Fill out our "MUSIC PR" PDF file and submit it via the "Get a Quote" button to receive a quote.
Any questions? Contact us: Support@Diamond-Roses.com
© 2009-2023 Diamond Roses Records.
Landing Page: Music PR, Music Press Releases, Music Public Relations, Artist PR, Artist Public Relations.