Welcome to the best ONLINE Music Service Provider
Price/Performance Test: 1.0 (A)
THE All Things Music Service Provider!
You are all things music? Us, too! Not just our customers bless us with a ★★★★★ rating but Music Today Europe has tested European studios and came to the conclusion that Diamond Roses Records is the best tested studio in the European Union. But we are far more than that! Check out our services via the top menu or read more about our theory "7 Steps to Musical Success" here! This theory is the basis of our service package.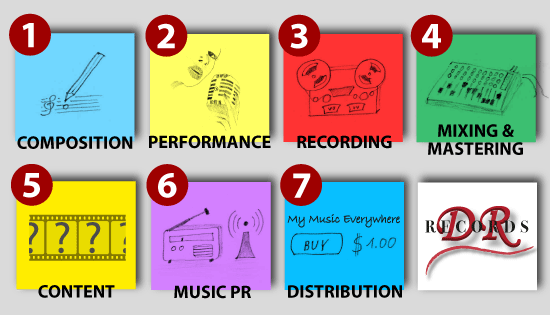 The 7 Steps to Musical Success
If you follow our innovative but simple "7 Steps to Musical Success", they will inevitably lead you to fame. Every single step that we portray is equally important and you need to focus on all of them. These steps are the key to success! We from Diamond Roses Records support you all the way. Check out our "Music Services" via the menu on top of the page. Hire us for what you need and skip what you don't need. If you first want to read about the "7 Steps to Success": Continue below.
1. Great Compositions and Lyrics
Compositions are the basis of everything you do in the field of music. What would Prince be without "Purple Rain"? What would Ray Charles be without "Hit the Road Jack!"? If you want to become successful in the field of music: Ensure that your songs are well composed and written. Our professional composers assist you: Do you need a virtuosic solo, a whole song, film score, jingle, creative lyrics or help with Sound Branding? Check out our Composition Service here.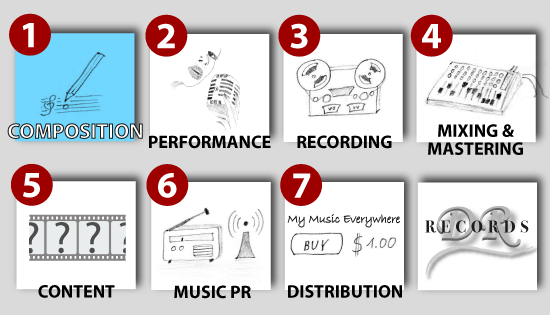 2. + 3. Good Performance and Recording
As important as the composition is the quality of your performance. Practise as long as you need to perform and to interpret the song(s) really well. Once your interpretation is great: You can record your performance. But also the recording quality (dependent on the knowledge of the engineer) should be fantastic. You need support? Hire the best studio musicians - some are even Grammy winners - and get their performances captured by great engineers: Hire Studio Musicians.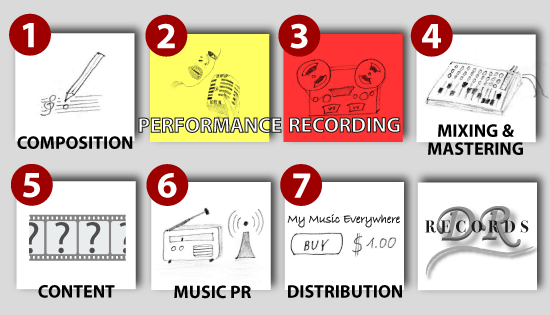 4. The best Mixing and Mastering
Voted the best mixing and mastering studio in Europe, we give you access to this important step in music production. The greatly performed and well recorded raw material often sounds horrible. This is where the often unknown stars of the music business come into play: Mixing and mastering engineers are responsible to get the most out of your unedited raw material: They are responsible to make your project eligible for broadcasting. Book the best Mixing and Mastering here.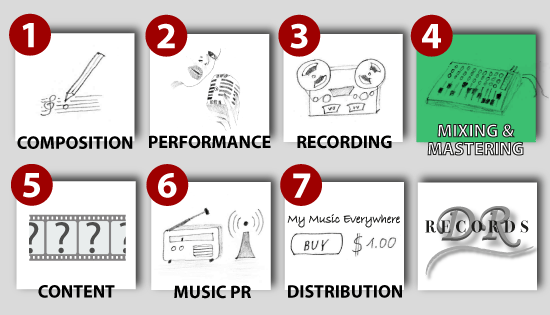 5. Good Content: Content Creation
To succeed in the music business, it is important to understand that your music is a product and you need to build up a world around this product. Your band image, band identity, band sound, band language, your homepage, professional pictures, unique cover graphics, interesting music videos, and catchy interviews: All this contributes to make you and your music a brand! Our Content Creation Partner assists you: Read More.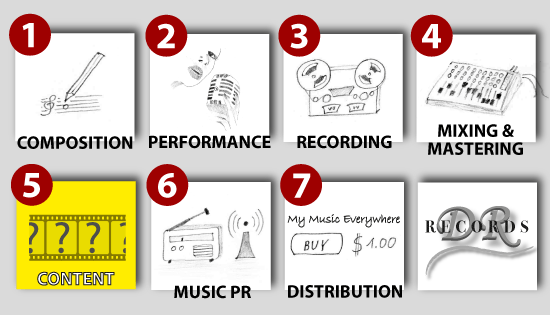 6. Regional or global Music Public Relations
The songs sound great, the band image is cool, the content is interesting and your music can be released? Please understand that the world is not waiting for you! Why should you be the one in a million artist that makes it? Because you know how! Now it is time to aggressively ensure that your music shines out! We present you to the media! Dependent on your strategy, we send your material to up to 15000 music editors from print, radio and TV: Read more about Music PR!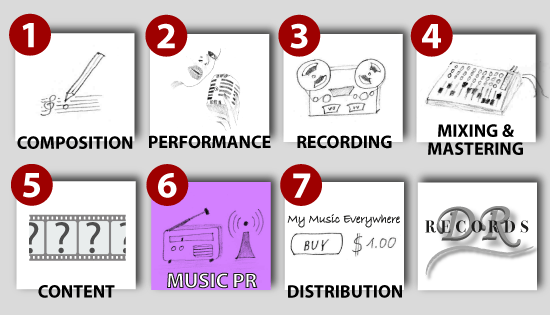 7. Global Music Distribution
After all these steps are taken, let us place your music in the stores. Coz isn't it about selling music? Diamond Roses Records enables musicians to globally distribute original music on online portals like amazon®, iTunes® or Spotify®. If we like your music, we will distribute it under our label "Diamond Roses Records" - incl. our labelcode. Labelcodes and music distribution are seen as general preconditions for the usage of music by media (radio, TV, film etc.): Global Music Distribution.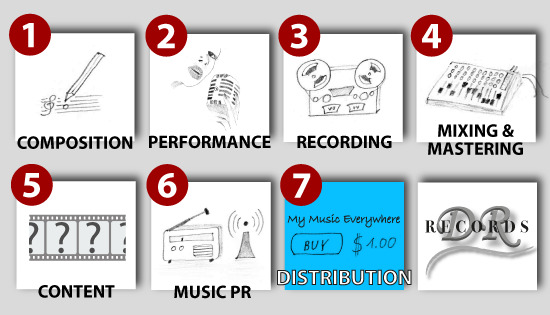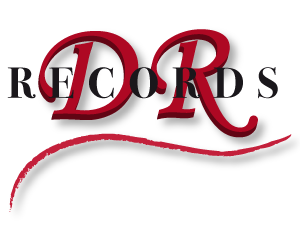 Any questions?
Support@Diamond-Roses.com
© 2009-2023 Diamond Roses Records.
Landing Page: The 7 Steps to Musical Success